PBM 810nm lichte hersenaandoeningen therapiemachine
De Brain Photobiomodulation Machine Infrared Therapy Helmet is een therapeutisch instrument gebaseerd op het principe van fotobiomodulatie. Infraroodhelmlicht heeft een goed therapeutisch effect op traumatische gebeurtenissen (beroerte, traumatisch hersenletsel en wereldwijde ischemie), degeneratieve ziekten (dementie, Alzheimer en Parkinson) en psychiatrische stoornissen (depressie, angst, posttraumatische stressstoornis)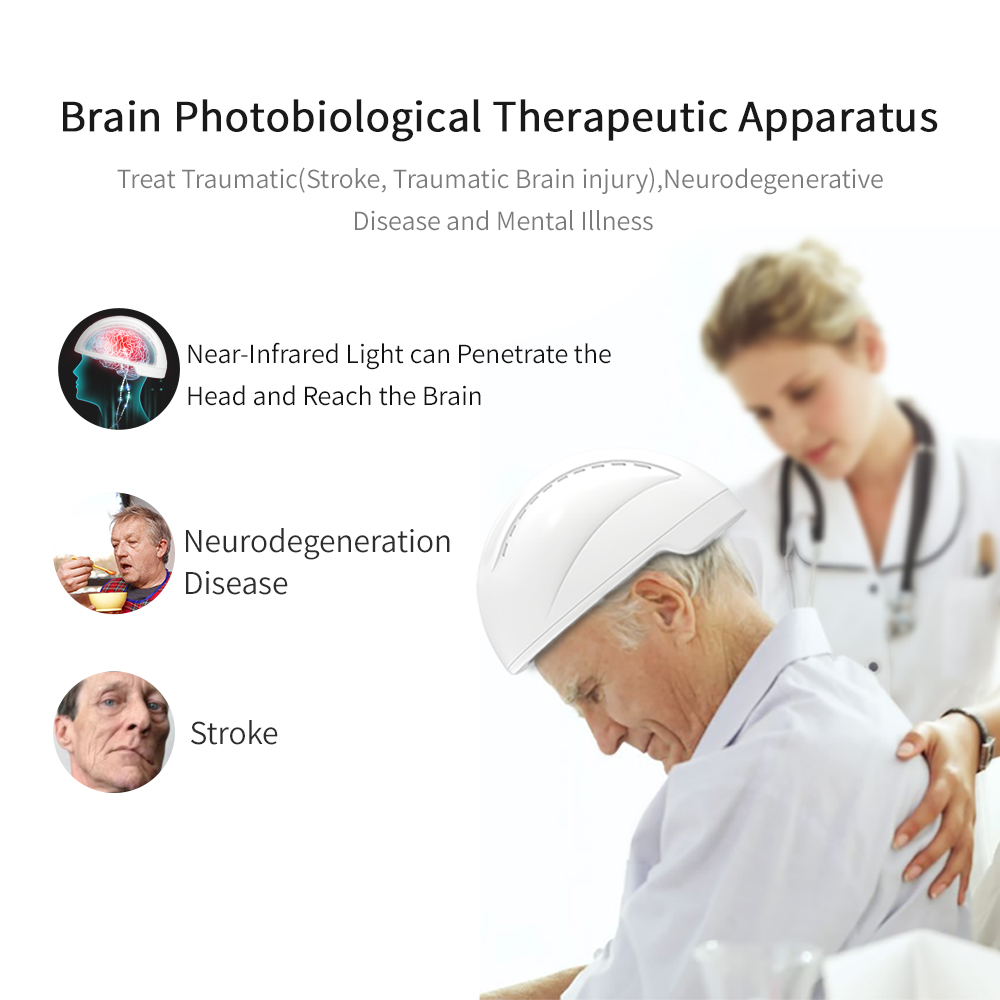 Wat is fotobiomodulatie van de hersenen 810nm?
Fotobiomodulatie (PBM) beschrijft het gebruik van rood of nabij-infrarood licht om weefsel te stimuleren, te genezen, te regenereren en te beschermen dat ofwel gewond is geraakt, degenereert, of anders het risico loopt te sterven. Een van de orgaansystemen van het menselijk lichaam die het meest nodig is voor het leven, en waarvan het optimale functioneren door de mensheid in het algemeen het meest bezorgd is, zijn de hersenen. De hersenen hebben veel verschillende aandoeningen die in drie brede groepen kunnen worden ingedeeld: traumatische gebeurtenissen (beroerte, traumatisch hersenletsel en globale ischemie), degeneratieve ziekten (dementie, Alzheimer en Parkinson) en psychiatrische stoornissen (depressie, angst, posttraumatisch stressstoornis). Er zijn aanwijzingen dat al deze ogenschijnlijk diverse aandoeningen gunstig kunnen worden beïnvloed door licht op het hoofd aan te brengen. Het is zelfs mogelijk dat PBM kan worden gebruikt voor cognitieve verbetering bij normale gezonde mensen. Bij deze transcraniële PBM (tPBM) -toepassing wordt vaak nabij-infrarood (NIR) licht op het voorhoofd aangebracht vanwege de betere penetratie (geen haar, langere golflengte).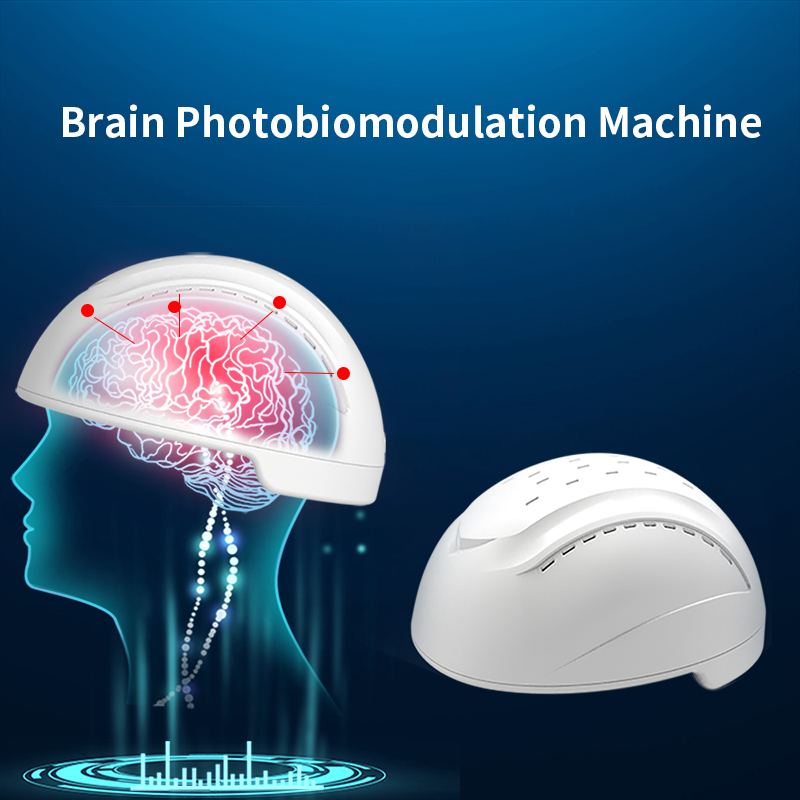 Hoofdfunctie van de 810nm Led-therapiehelm
NIR-licht kan het hoofd binnendringen en de hersenen bereiken.

NIR wordt geabsorbeerd door cytochroom c-oxidase in mitochondriën.

Warmtegestuurde ionenkanalen spelen ook een rol.

Verhoogde doorbloeding, energie, neuroprotectie, minder ontstekingen, hersenherstel.

Kan traumatische (beroerte, TBI), neurodegeneratieve en psychiatrische ziekten behandelen.
Specificaties infraroodlichthelm
| | |
| --- | --- |
| Name | Brain Photobiomodulation Machine Pbm For Traumatic Brain Injury (tbi) |
| Model | GY-PDT1 |
| LED Wavelength | 810 nm |
| Led Quantity | 256 |
| Power(total helmet) | 15 W |
| Power(one LED) | 60 mW |
| Power | 24 mW/cm2 |
| Certificate | CE FDA |
| OEM | Support |
| Color | White/Black |
| MOQ | 1 PC |
810nm Led-therapiehelmindicaties
1. Traumatische gebeurtenissen (beroerte, traumatisch hersenletsel en globale ischemie).
2. Degeneratieve ziekten (dementie, Alzheimer en Parkinson).
3. Psychiatrische stoornissen (depressie, angst, posttraumatische stressstoornis).
Infrarood helm licht contra-indicatie
1. Vermijd directe blootstelling aan de ogen, de buik van zwangere vrouwen, melanoom, bruine vlekken.
2. Taboe-patiënten met maligne tumoren in het vroege en middenstadium.
3. Contra-indicaties voor patiënten met acute bloedingsstoornissen.
Product Categorie : Fotobiomodulatie therapiehelm